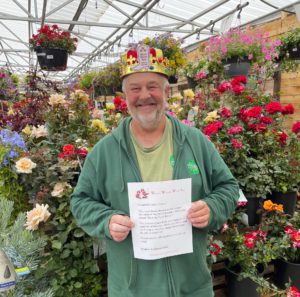 Western Welcome Week is honored to announce Chris Ibsen, Store Manager of
O'Toole's Garden Centers
– Littleton as the 2022 WWW Grand Marshal! Chris was nominated by several Littleton citizens and unanimously chosen by the WWW board. Chris is recognized for his long-time support of Western Welcome Week and for being a cheerful, plant guru, and supportive fixture in our community!
Chris has been with O'Toole's for the 31 years that the Littleton location has been open. He attributes the store's success to his great staff and strong community support. O'Toole's Garden Centers are a local, family owned business with years of heritage in several communities.
Come see Chris in the Grand Parade on the beautiful O'Toole's float, Saturday, August 20th, as always, bringing up the end of the parade!
Thank you Chris for being you and for all you have done for so long! You are King! Aren't those background flowers beautiful!