94th Grand Parade – Theme "Saddle Up!" • Saturday, August 19, 2023 
Start time 10am – parade typically lasts 90 minutes.
---
The Parade Application, categories, policies, map, and Rules of the Road are available on the Application Page. An additional $10 charge is assessed for entries with live or amplified sound on their entry (marching bands and pipe bands excluded). The 2023 Parade Application will be available April 1, 2023.
The Grand Parade stages on Gallup Street between Littleton Boulevard south to Caley. The street is closed to all traffic except vehicles participating in the parade starting at 7am on Festival Day. Absolutely no vehicles will be allowed to drive on Gallup Street after 7am except vehicles entered in the parade.
Parade Entry Deadlines
Entry deadline for ALL entries is July 15. Parade applications will be accepted until the parade is full, or until Sunday, July 15 at 5 p.m. After July 15, a $25 late fee will be applied to ALL entries (including bands) until the parade is full, or until Sunday, August 6. No new entries, or changes, additions, or cancellations to submitted entries will be accepted after August 6 at 5pm. Changes to an entry after it's been submitted but before the deadline may incur an additional charge. Acceptance of each entry is at the discretion of the Parade Committee.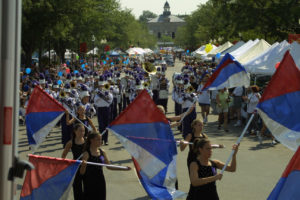 Parade Entries/Participants
Parking is very limited at the parade staging area but there is plenty of parking available at Arapahoe Community College, 5900 S. Santa Fe Drive. Catch the Littleton Public Schools (LPS) Parade Shuttle Bus up to the parade staging area. See map below for shuttle route.
Parade participants must be dropped off on Datura Street at Shepperd Avenue, Library Lane, or Park Hill Avenue. Absolutely no vehicles will be allowed to drive on Gallup after 7am except vehicles in the parade.
Marching Bands
Due to parade popularity, timing and staging limitations, the number of marching bands that can be accommodated in the parade is limited. Priority will be given to bands based on prior attendance and space availability. It is important to create a parade lineup with variety and spacing so that similar entries, such as marching bands, are not placed too close together.
School Buses (see map below)
Marching bands and other buses may drop off students on Datura Street at the Gallup Park parking lot, then continue to ACC Parking Lot I. Band members can walk across the park or down Library Lane to reach Gallup Street and parade staging (see map below). After the parade, students meet their buses in ACC Lot I.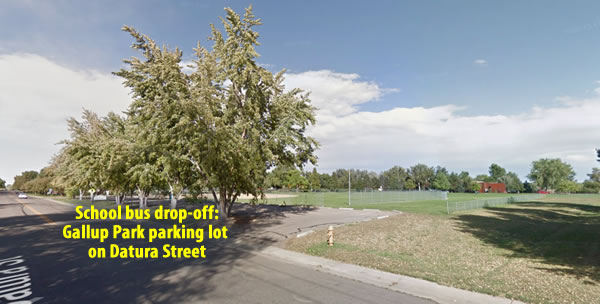 Public Parking (see map below)
Free parking is available at Arapahoe Community College, 5900 S. Santa Fe Drive for parade attendees.
Parade Route (see map below) The Grand Parade begins at Littleton Boulevard and Gallup Street, heads west on the north side of Littleton Boulevard, continues through downtown Littleton on Main Street, turns south at the end of Main Street onto Rapp Street, and ends at Arapahoe Community College at Rapp and Church Streets.
WWW Grand Parade Weather Policy
It could be a warm day; be sure to bring water or other hydrating fluids, sunscreen, and protective eye wear for everyone in your unit. Be advised that Western Welcome Week has specific dates for events which are not canceled due to inclement weather, and no refunds are made because of weather. However, if weather creates a safety issue, Western Welcome Week reserves the right to terminate or postpone the event.
Parade staging, parade route, equestrian route, and bus drop-off and parking map
Click on the map icon

below to open the map legend.
Print friendly: Parade map – route, staging, equest, shuttle [PDF]

Parade Committee is comprised of these wonderful volunteers:
Co-Chairs — Mike Giesen and Cathy Weaver
Banners — Jamey Taylor and Nikki Taylor
Staging — Norm Borchers and Platte Canyon Sertoma Club
Co-Emcees — David Law and Lance Foreman
Setup, lineup sentry — Jake Weaver
Honorary parade lineup spotters – The Lillis Family of Littleton
WWW Office Support — Cindy Hathaway, Executive Director