Saturday, August 19, 2023 • 8am-4pm
Craft Fair Applications for 2023 will be available January 1, 2023 – March 31, 2023 for previous vendors and will be open to all vendors April 1, 2023: Applications & Registrations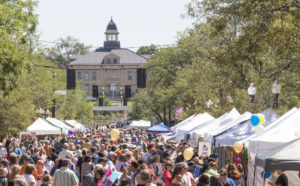 Western Welcome Week's 63rd annual Craft and Home Improvement Fair in Historic Downtown Littleton, Colorado will be held on Festival Day, Saturday, August 19, 2023 from 8am to 4pm.
---
Fair Participants
Setup begins at 5:30am. All vehicles must be off the street no later than 7:30am. Volunteers are available to assist you in locating your booth. Participants will need to provide their own setup including tent, tables, chairs, etc.
Forms and Applications
The 2023 Craft Fair Booth Application form, as well as all other WWW events forms can be found on the Applications & Registrations page beginning in January 2023. Be sure to read the Arts & Crafts Participant Policies.
Vendors
The Western Welcome Week Craft Fair is for handcrafted vendors. Commercial opportunities, including Home Improvement vendors, are available on the sponsor page, or contact the WWW office at 303-794-4870 for commercial booth pricing and availability. Non-profit organizations please visit the application page.
WWW Craft Fair Weather Policy
As stated in the WWW Crafts policies: it could be a warm day; be sure to bring water or other hydrating fluids, sunscreen, and protective eye wear for everyone in your unit. Be advised that Western Welcome Week has specific dates for events which are not canceled due to inclement weather, and no refunds are made because of weather. However, if weather creates a safety issue, Western Welcome Week reserves the right to terminate or postpone the event.
Media Coverage
Local and daily newspapers, local news, radio stations, social media, and the internet help get the word out about the Craft Fair and other Western Welcome Week festivities.
A Perfect Setting
The ambiance in historic downtown Littleton is perfect for artisans to proudly display and sell their handcrafted goods.
Booth Space Assignment
Limited space dictates that we assign booth spaces taking into consideration the types of craft(s) sold, the number of years a crafter has participated, and location of "like" vendors and downtown merchants. We suggest that you not wait too long to apply. The deadline is July 15, 2022, we do establish a waiting list. Also, we ask that artisans with only handcrafted items apply. Commercial spaces are provided for historic downtown Littleton merchants, and sponsors of Western Welcome Week. Please read the Arts & Crafts Fair Policies for details about requirements.
Parking
FREE Parking will be available at Arapahoe Community College located at 5900 S. Santa Fe Dr. (corner of College Dr. and Santa Fe Drive). Parking is also available at the Depot Art Gallery, 2069 W. Powers Ave., Arapahoe County Building, 5334 S. Prince St., and the Littleton Center, 2255 W. Berry Ave.
Streets excluded – No parking:
• Main Street – Rio Grand to Santa Fe
• Sycamore – Main to Powers
• Prince – Alamo to Powers
• Nevada – Alamo to Powers
• Curtice – Alamo to Powers
Streets will be closed to all vehicle traffic at 7:30am. Vendors will be able to drive vehicles onto the street to load out the close of the event at 4:00pm. The streets will not be open to regular traffic until 7:00pm or until the streets are clear of vendors and street sweepers have cleared the streets of debris.
Parking hour restrictions will not be enforced. However, tickets are given for parking too close to fire hydrants and residential/business driveways. Overnight parking at Arapahoe Community College is prohibited.
Compliments About the Festival
Love the community history • Efficient & fun craft fair. I was impressed! • Great family activities, fun for everyone. • Very friendly shoppers • Excellent refreshments and hospitality shown to vendors • Keep up the great job, we will return • Organized — awesome volunteers • Wide variety of crafters • Such a generous organization providing coffee and treats in the morning, water and candy – especially cold chocolate in the afternoon, and volunteers to watch your booth if you need a bathroom or food break!
Crafter booths are not available for commercial vendors or political booths. Contact the Western Welcome Week office at 303-794-4870 for information on sponsor booths or visit the Sponsorship Levels page and political booth space.
For questions or more information, call the WWW office at 303-794-4870.