63rd WWW Craft Fair
Saturday, August 19, 2023 • 8am-4pm
Littleton Crafter Space: 10′ x 10′ — $100
Commercial space is available – contact the Western Welcome Week (WWW) office at 303-794-4870.
Craft Fair Applications for 2023 will be available January 1, 2023 – March 31, 2023 for previous vendors and will be open to all vendors April 1, 2023. Applications will not be accepted without payment of the booth fee.  Applications & Registrations
*Note: Event information may change and all events are contingent on current health guidelines and restrictions*
---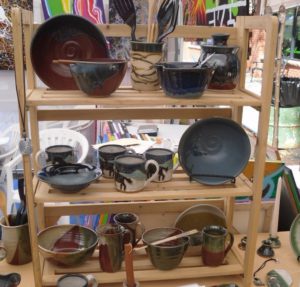 Handmade Originals Only
ALL WORK MUST BE THE ORIGINAL WORK OF THE ARTIST. Unacceptable items include wholesale, brokered, merchandise mart, or imported items. No factory-made items, ready-made kits, franchised, seconds, and commercially-produced items. Removal of questionable items or displays on Festival Day will be the discretion of Western Welcome Week officials.
Booth Registration
Advance registration is required with the entry fee; post-dated checks are not accepted. Booth application deadline is July 15th each year, after July 15th the fee will increase to $115. The fee is $100 per 10′ x 10′ space, $200 per 10'x20′ space. Two artists may share a booth and registration fee. However, both artists must complete an application with photos and be acceptable to WWW. No more than two artists may share a booth space.
Make checks payable to Western Welcome Week and mail to 5890 S. Bemis St., Littleton, CO 80120-2010.
Categories
Please be specific on your application. Check all categories that apply and give a brief description of all "original handcrafted" items sold on the application form. Exclusivity of craft(s) cannot granted. However, some crafts may be limited due to the number of similar applications received.
Photos Required
Photos determine acceptability into the Festival. Include a minimum of three (3) photos including each artist's work, one of the booth if available, and most importantly, one of the artist(s) working on his/her craft. Digital photos are acceptable, printed and mailed with application or emailed to info@westernwelcomeweek.org. Photos are required, even if artist has participated in the festival before. Printed photos are not returned.
Booth Space
Booth spaces are 10′ x 10′ and are placed in the street side-by-side, visible from the street (back to the sidewalk). ELECTRICITY IS NOT AVAILABLE, and generators are not permitted without prior approval. Crafters are responsible for their own set up and equipment including tables, chairs, canopy, and trash removal. The canopy must be weighted; no stakes, wires, or ropes may be used in the construction of any booth. Some booth spaces are in front of merchants; therefore, no backdrops are allowed. Because this is a street fair, leveling may be necessary. Exhibitors are responsible for their own trash and must have a trash receptacle in the booth. Crafters may not leave their booth to solicit sales or distribute information. Due to close proximity of booths, crafters must conduct business and contain goods within assigned booth space — no expansion outside the 10'x10′ area. Crafters may rent additional space if needed.
Space Requests
Spaces will be assigned on a first-come, first-serve basis, taking into consideration the types of crafts and the number of years a crafter has participated in the WWW Arts & Crafts Fair. The Festival Committee makes every effort to place exhibitors in requested areas or as close as possible. Booth space for vendors for the previous year will be given first opportunity for their space from January 1 through March 1, 2023. Some exceptions apply.
Littleton merchants may have booths placed among the craft booths. Non-profit space and Direct Sales booths (only one from each business) is also available. Commercial spaces are allowed for sponsors of Western Welcome Week, please see our sponsorship page or contact the WWW office at 303-794-4870. There is also a Downtown Littleton Bazaar held in the parking lot of a downtown merchant.
Notification
Accepted exhibitors will be notified within one month of application receipt. Instructions, maps, booth numbers, etc., will be emailed to participants in August.
Setup and Dismantling
Setup begins at 5:30am. Volunteers are available to give directions. All vehicles must be off the street by 7:30am or they may be towed and fined. Setup must be completed by 8am. Plan to remain at the festival during the specified hours (8:00am to 4:00pm) Dismantling early will be noted, and may lead to exclusion from the following year's festival. Booth area must be cleared of all construction material and trash before leaving.
Cancellations and Waiting Lists
Cancellations must be made in writing prior to July 15 each year to receive a partial refund of $85, $15 of the entry fee will be retained for administrative costs. Cancellations received after July 15 will result in no refund. Once booth assignments are made, a waiting list will be established. If cancellations occur, WWW will contact the first person on the waiting list, and so on.
No Show — No Refund
All space assignments are final. WWW will strive to maintain a balance of exhibitors. Any booths not claimed by 7:30am on Festival Day may be reassigned to waiting crafters. Refunds will not be made for "no shows".
Sales Tax
Crafters are responsible for obtaining a Special Events License and collecting and submitting the appropriate sales tax. For tax information, contact the Colorado Department of Revenue Business hotline 303-205-8411. City of Littleton sales tax, is due by September 20 each year to the City of Littleton (sales tax is subject to change). Tax charts can be obtained on the Colorado State web site and are not provided by WWW. Visit the Colorado Sales and Use Tax Rates page.
Food Concessions
Food items for sale at the fair must be packaged and sealed, samples may be made available for taste-test only. Food items for consumption on the premises may be sold at designated concession sites only – visit the concessions page for more information.
Parking
FREE Parking will be available at Arapahoe Community College located at 5900 S. Santa Fe Dr. (corner of College Dr. and Santa Fe Drive). Parking is also available at the Depot Art Gallery, 2069 W. Powers Ave., Arapahoe County Building, 5334 S. Prince St., and the Littleton Center, 2255 W. Berry Ave.
Streets excluded – No parking:
• Main Street – Rio Grand to Santa Fe
• Sycamore – Main to Powers
• Prince – Alamo to Powers
• Nevada – Alamo to Powers
• Curtice – Alamo to Powers
Streets will be closed to all vehicle traffic at 7:30am. Vendors will be able to drive vehicles onto the street to load out at 4:00pm until 6:00pm. The streets will not be open to regular traffic until 6:00pm or until the streets are clear of vendors and street sweepers have cleared the streets of debris.
Weather
Be advised that WWW has specific dates for events. Events are not canceled due to inclement weather and no refunds are made. However, if weather creates a safety issue WWW reserves the right to terminate or postpone the event.
Reservation of Rights
Western Welcome Week, Inc., a nonprofit organization, reserves the right to refuse participation to any group, groups, individuals, an individual, association, business, or any other entity of any nature or type that Western Welcome Week feels in its sole discretion would not further the goals of the organization, would not be appropriate considering circumstances, or might reflect negatively upon Western Welcome Week, an individual or group.