*92nd Western Welcome Week Grand Parade – *Cancelled
Monday, August 17, 2020 @ 10:00 am - 12:00 pm
Downtown Littleton — Main Street, Littleton

< Back to Event Schedule
---
Originally planned for August 15. 6-11/2020: After considerable discussion, both internally and externally, the Western Welcome Week board has made the difficult decision to cancel the 92nd Grand Parade due to the impact of COVID-19. With social distancing protocols and public health orders that prevent large gatherings, this is the appropriate decision in order to keep both participants and the community safe.
We plan to continue several regular Western Welcome Week events in a revised or scaled back form during the annual celebration, August 7-16. Check out our website https://westernwelcomeweek.org for updates on events.
We look forward to bringing the community the Grandest Grand Parade in 2021!
The board and staff want to thank our sponsors and the community for their continued support and understanding.
The biggest parade in the southwest metro area! Featuring equestrians, high school marching bands from across the state, pipe bands, tractors, floats, and FUN!
FREE parking is available at Arapahoe Community College, 5900 S. Santa Fe Drive, Depot Art Gallery 2069 W. Powers Avenue, Littleton Center, 2255 W. Berry Avenue
A school bus shuttle is available to take parade entry participants from Arapahoe Community College up to the parade staging area at Gallup and Littleton Boulevard.
Parade Route, Parking, Staging and Equestrian Route Map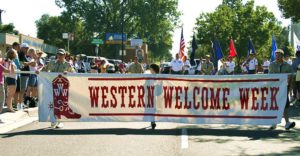 The Western Welcome Week Parade — 92 years of Celebrating Community!
We wish to thank those who give of their time and talents to ensure the WWW Grand Parade is a success: Platte Canyon Sertoma — Parade Stagers, DTC Sertoma — Super Dooper Pooper Scoopers, Boy Scout Troop 114 — Banner Carriers, and our wonderful Parade Chairs!
For more entry information visit the parade page.
**Note: Event information may change and all events are contingent on COVID 19 restrictions**
| | |
| --- | --- |
| Cost | Entry fee for parade participants - Free to spectators |
| Sponsor(s) | Bradford Auto Body, Inc., Lang Investment Group, Mike Ward Infiniti-Maserati-Alfa Romeo-Fiat |
| Contact | Western Welcome Week Office |
| Email | info@westernwelcomeweek.org |
| Phone | 303-794-4870 |
| Website | |
LOCATION:
Downtown Littleton
Main Street
Littleton